The Barcelona midfielder is finding it hard to break into Luis Enrique's starting XI and Everton look set to offer an escape route for the youngster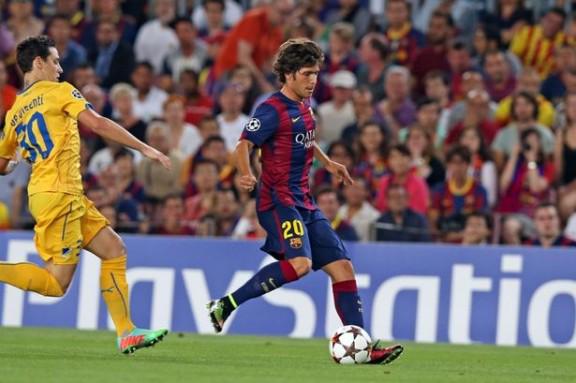 Everton are still in the race for the signature of Barcelona's young midfielder Sergi Roberto.
The midfielder rarely features for Luis Enrique's side playing under the shadows of the likes of Sergio Busquets, Iniesta, Rakitic and Xavi last season and with the arrival of Arda Turan, it's more likely the 23-year-old's number of minutes on the pitch will be cut short, therefore, Roberto Martinez is convinced Sergi would love to play more.
The Everton boss has sounded his interest on the midfielder earlier this season and sought for the player's loan. Following the arrival of Gerard Deulofeu from Barca, Martinez believes Sergi Roberto will add a lot to his midfield but Luis Enrique has made it clear that he wants the player to stay at the club.
However, if Sergi Roberto decides to seek more playing time elsewhere, Luis Enrique would respect his decision and given the huge number of midfielders at Barca, a loan move might just be on the card before the summer transfer window closes.