The Barcelona right-back has publicly said his teammate Lionel Messi is by far better than Real Madrid's Cristiano Ronaldo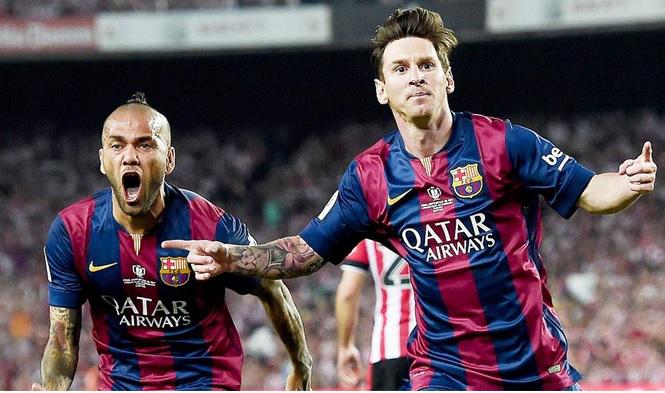 Barcelona defender Dani Alves has voiced his verdict on the Messi-Cristiano comparison saying the Argentine is "much better" than Cristiano.
"Messi is much better than Cristiano. Messi has more influence in the game, Cristiano doesn't." He said in an interview with Bola de vaz.
"Cristiano only influences in goals but does he make plays? Messi however makes plays, assists, and scores goals."
"Messi is a divine gift. Ronaldo is work, all dedication. There's a rivalry but I admire them."
He spoke on his admiration for the Portuguese star but claims there are certain things about him he does not like.
"He's a guy with a lot of dedication, and he's competitive. There are things that I don't admire, because I play for the team. I think my team is more important than me. I think a bit of what matters goes by, which is the collective. So much so that they criticised us during the celebtation of titles while he celebrated the Pichichi."
Alves spoke on the inident between Messi and Coach Luis Enrique during the course of the season that led to a media meltdown. He had some good words.
"Messi and Luis Enrique incident? It sometimes come by wanting to improve. There was anger, but it was to compete. People talk a lot."
"The incident happened during a game in training. It was an action that the coach interpreted one way and Messi the other."
"Messi is very competitive and never wants to lose and his team lost and the discussion grew," he said.
Dani Alves will play along the Argentine for at least two more years after penning a contract extension that will tie him at the club until 2017.