ABSOLUTE SORCERY! The MSN trio cannot just stop scoring.
FC Barcelona's wonderful attacking trident of Lionel Messi, Luis Suarez and Neymar have once again made history in football.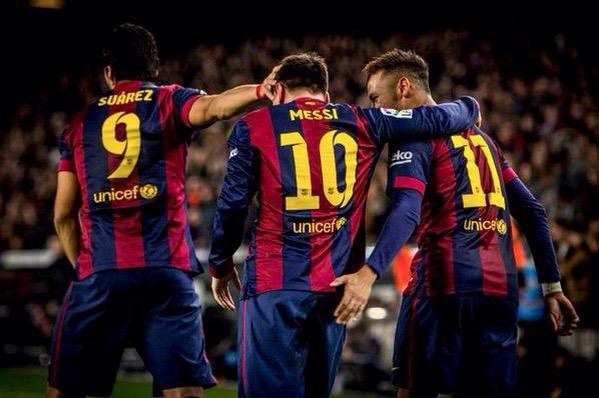 The fantastic trio have netted an astonishing 120 goals across three competitions for FC Barcelona in the 2014/2015 season. Yes, I'm not joking, 120! Astonishing, isn't it?
The 'M' – Messi who scored a brace against Athletic Bilbao in the Copa del Rey final took his season's tally to 58 goals. The Argentine have been in great form this season adding another 27 assists and is strongly tipped for his fifth Ballon d'or crown. Christ Jesus!
The 'S' – Suarez had a tough start of the season. Banned for four months and missed a couple of games for Barca, the Uruguayan international have scored a mouth-watering 24 goals this season, adding another 22 assists. Demonic!
The 'N' – Neymar has gone through an astonishing revolution this season. After a difficult first season scoring only 15 goals, the Samba wonderkid has fired home 38 strikes this season including 9 in the Uefa Champions League. Merling In Football!
Breaking the historic record..
With 58, 24 and 38 goals respectively (120 in total), MSN have set a new record of most goals scored by a specific trio in the history of Spanish football beating Cristiano-Benzema-Higuain tally of 118 in the 2011/2012 season. And guess what?… There is still one more game to play, the UCL Final, watch out.
YOU MIGHT ALSO LIKE:
Messi Magic Sinks Athletic Bilbao For Copa Del Rey Triumph.
Messi And Nigeria – A True Love Story That Leads To Success.