Juventus are happy to announce the extension of contracts of two of their key players Gianluigi Buffon and Giorgio Chellini still 2017 and 2018 respectively.
Buffon is 36-year-old and he is still lookinq agile to do more for Juventus. His former contract expired in the summer of 2015, but has now added two-year-extension.
Giorgio Chellini, a player Juventus can't afford to lose one of the best defender in Juve if not the best. The 30-year-old man still has a contract with Juve still the end of this season, but has now added additional three years that will keep him in the club still 2018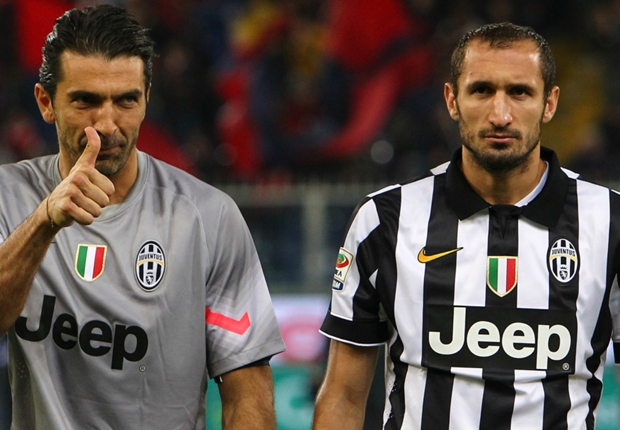 "It's an important day for Juventus. Buffon has extended his Juve contract until 2017, Chiellini until 2018," club president Andrea Agnelli said at a press conference.
"Their leadership is so important. They stayed with Juve in Serie B and have helped us to return to the top. We haven't realised all our objectives, we share their dreams for the future.
"Giorgio and Gigi know that they can come to me at any time to speak about their future careers."
Buffon, has defintely revealed that his new deal will be his last one and is keen to win more silverware with Juve.
"The fact that it will be my last contract was a factor, but I'm not worried about that: I feel energised. As both parties wished to continue, it was the natural choice to extend my contract for another two years. I'll need energy and courage to make my career last even longer.
"The praise from the club makes me proud of the choices I made 14 years ago. I want to continue performing to a high level, so that I can be an asset and a point of reference for the club."
Chiellini was equally pleased with his renewal and has vowed to keep giving his all for the club.
"I'm excited to be here. It makes me think back to all the people who've helped me grow and become a man in Turin.
"Behind our historic achievements there is one big family that works every day to help us achieve our objectives. We all continue to have big dreams, with hard work and daily sacrifice as our starting point."
follow me for updates.